Close Talk Conference System


- Wireless Conference And Voting System -
- Get the safety of a cable system with the convenience of wireless -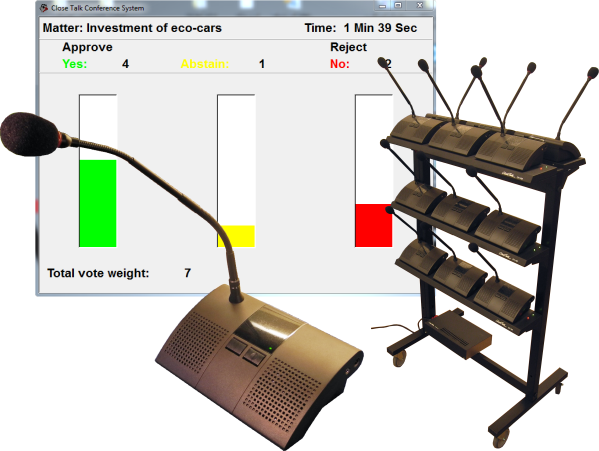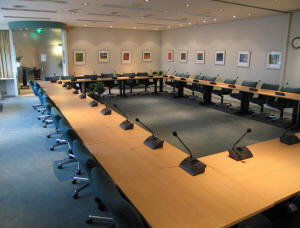 Close Talk Conference System is a wireless conference and voting system based on infrared light. The system is ideal for all kinds of conferences and meetings starting from an audio-only discussion system on to telephone and video conferencing up to fully formal e-democracy systems including voting, camera follow, attendance management and much more.

With Close Talk Conference System you will get a system with long life, high reliability and rich in functionality, all this at a very competitive cost level which makes it a sound long-time investment.
The Delegate Unit has a detachable microphone with a large capsule, resulting in greater flexibility and higher audio quality.

Beginning December 2014, Close Talk Conference System audio system was updated. Owners of existing systems may consider refurbishing to gain many of these updates, contact us for more information.
Get the advantage of infrared light, the only "NSA-proof" wireless technology available!
Many radio-based systems are having increasing problems with instability, in fact; in large cities they are rapidly becoming very difficult to use with frequent instability. A supplier of a radio-based system will have a hard time to guarantee functionality for more than a few years but with an infrared system there is no such limit, it will work any place, any time, now and in ten years!

With the on-going global eavesdropping and bugging scares in mind it is now more important than ever to choose a technology that provides information security. Radio based systems claims "x thousand bits encryption" but how can you know it is secure today and in ten years? By choosing infrared the wireless information stays within the area of your choice, now and in the future!


Use the menus to browse the site, from an introduction to the system up to fully detailed product information and downloads.

We welcome all contacts, distributors inquiries, installers and architects, business cooperation proposals as well as end-users, just send us a message about your project and we'll be happy to help!