Close Talk Loader
Users of Avast Antivirus!
For some reason the Avast Antivirus application is falsely signalling applications developed using Embarcadero Delphi/C++ Builder as containing a virus. This is wrong, all our applications are virus-tested befor being published here.

More information can be found here, here and here.
Update 2014-02-05
Please see information about system firmware updating after the download links on this page, it contains instructions for using Close Talk Loader and how to update the system firmware's without a Software Loader Adapter.
Version 1.3.1.2
Updated 2015-08-12. Software utility used for upgrading the Central Unit and Delegate Unit firmware's. Now supports COM port numbers up to 32 and Windows Vista, 7, 8 and10. Also added is support for loading without a Close Talk Software Software Loader Adapter (see below).

IMPORTANT! If there is a version prior to 1.3.0.1 already installed, please uninstall this version using Windows Control Panel! This new version uses a different installation technology that does not uninstall versions lower than 1.3.0.1 properly.

Download and execute the self-extracting file to install. Note! Only the loading-tool software is downloaded here, the preferred firmware files must also be downloaded (see links to the left).
English and Swedish language Close Talk Loader version 1.3.1.2, single install file. 4 545 374 bytes.
Close Talk Loader is a Windows compatible software used to update central and delegate firmware and for configuration. Together with this software; also download the latest central and delegate software versions, then follow the instructions in the manual and on this page.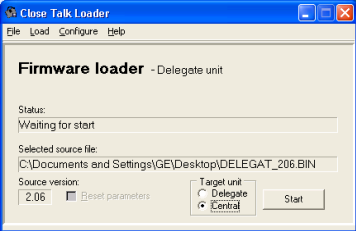 System firmware updating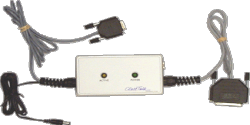 The Software Loader Adapter was originally intended as a tool for distributors and resellers to provide update support of the system firmware's for their customers.
With the increased use of the internet and the fact that more and more people are becoming used to updating their own systems we have decided to discontinue the Software Loader Adapter and provide information about how to update the system without it.

A new version of the Close Talk Loader software is currently being designed that will make system updates more self-explanatory. In the mean time, please use the current software version together with the instructions below and the original loader manual.
Loading requirements and procedure
To begin with, a PC with an RS-232 serial port is needed. Since most modern computers do not have built-in serial ports anymore, a USB<->RS232 adapter is usually required. We recommend Aten adapters but any well known brand should be fine. Please follow the adapter installation instructions in detail, most problems stem from incorrectly installed serial port adapters.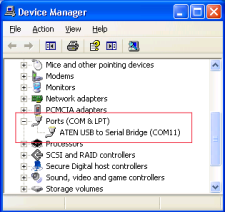 Once the USB<->RS232 adapter is installed it is assigned a COM port number. This number is required in the Close Talk Loader software but unfortunately Microsoft Windows has no easy way to find out what the assigned number really is. To verify that the adapter was installed properly and to find out what number it was assigned, click (Windows XP) Start->Control Panel->System, select the Hardware tab and then Device Manager. The way to access the Device Manager varies with all windows versions, please use the windows help function to find out the exact method. In the Ports section verify that the adapter has been installed correctly and what the COMx port number is.
A connection between the computer serial port and the Central Unit serial port is needed. If a Software Loader Adapter is available it is easy, just connect it and use the Close Talk Loader software as the manual shows.
No Close Talk Software Loader Adapter available
If no loader adapter is available, a cable is needed. The type of cable varies according to this:
If the Central Unit has serial number 2000 or higher or if only the Delegate Unit firmware will be updated, a regular DB-9 pin null-modem cable is required. This type of cable can be purchased from most well supplied computer part retailers or be home-built using the connection diagram in the Central Unit User Manual
If the Central Unit has a serial number lower than 2000, a special home-built cable is needed. Please download this connection schematic to build the cable, be sure to study all the notes on the schematic. This cable can be used with any Central Unit serial number
With version 1.3.0.1 and later, Close Talk Loader now has an assist-mode to load without a Software Loader Adapter, please follow the on-screen instructions. A special cable may still be needed though as discussed above.

Now, with Close Talk Loader installed and started, with the correct PC COM serial port number selected in Close Talk Loader, the Central Unit connected to the PC and with the Central Unit power on, click Configure in Close Talk Loader. After a few seconds the central unit serial number should be shown. If an error message is shown the problem has to be corrected before continuing.
To update the Delegate Unit firmware
Updating the Delegate Unit firmware is done via the Central Unit. The Central Unit stores the data image so the first step is to load this data into the Central Unit. With the system connected and setup as described above, click Source file... in Close Talk Loader and select the Delegate Unit software file downloaded from our web site. Click Load and then select Central in the Target unit setting. Click the Start button and the load should start within a second. If not, verify connections and settings.

Once the load is finished the delegate unit firmware needs to be sent from the central unit to the delegate units:
Place all delegate units to be updated within signal range and turn them on. They should start to flash their LED:s in a fast pace. If not they may already have the latest version installed
At the central unit use the knob to show Delegate units on the display. Press the central unit Select key
Turn the central unit knob counter-clockwise until the display shows Start update – Version X.YY. Press Select and then Enter
A percentage counter should start. Watch the delegate units but do not disturb them, the delegate unit blinking should now be at a slower pace
Wait for the counter to reach 100%. The delegate units should all turn them self off, this is an indication that the update was correct. If any unit starts to blink at a fast pace again, move it to a better signal range position and restart the update (Select + Enter)
The delegate unit firmware has now been updated
To update the Central Unit firmware
With version 1.3.0.1 and later, Close Talk Loader now has an assist-mode to load without a Software Loader Adapter, please follow the on-screen instructions.

Below are instructions for loading using versions lower than 1.3.0.1 that requires some extra operations, please follow in detail:
Select the central unit firmware file in Close Talk Loader (File->Source file…)
Click Load. The software changes to the Firmware loader – Central unit panel
Make sure that Reset parameters is not checked, selecting this setting this will erase all central unit settings and the delegate unit firmware
Turn the central unit power off
With central unit serial number below 2000:
Press the switch connected to the home-built loader cable and while keeping this switch pressed, turn the central unit power on

With central unit serial number 2000 and higher:
Press the front panel Select key and while keeping the Select key pressed, turn the central unit power on
After a second, release the Select key/cable switch. The central unit front panel should be dark, no lamps or the display should be lit, this indicates that he unit is in loader mode. If not, redo step 5 until it is correct
Click the Start button in Close Talk Loader. The Sending the boot-loader message is shown for a few seconds and then a percentage counter is shown
Wait for the counter to reach 100%
Since there is no Software loader adapter available, the loader program cannot restart the central unit power automatically and the message No contact with the boot-loader is shown. This is normal
Turn off the central unit power, wait two seconds and then turn it on. The central unit should start normally. Use the central unit front panel to verify that the correct version has been installed
The central unit update is done