Formal conferencing and voting
Close Talk Conference System is already excellent as an audio-only system but that is only scratching the surface of its capabilities. Add the PC-software Close Talk Control and the system is transformed into a very competent tool for formal conferencing and voting suitable for governments, municipalities and boardrooms.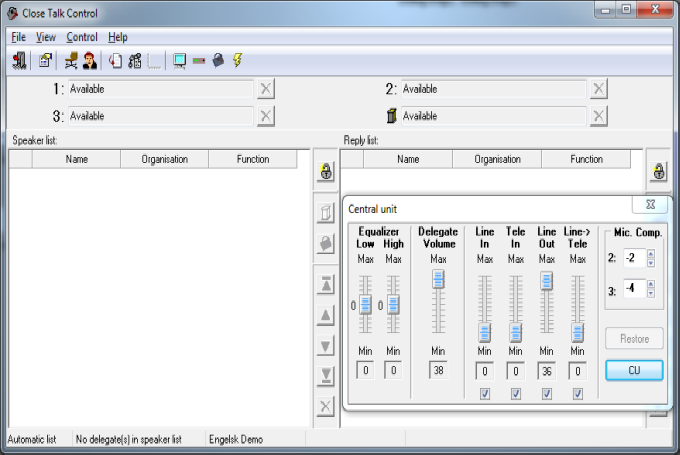 Features include full system audio control, delegate databases, speaker and reply list functionality, system testing, agenda, several roll call methods, extensive attendance reporting functionality, conference event logging, a separate speaker list and vote result display window suitable for large screen projection and much more. Any Close Talk system can be upgraded at any time with Close Talk Control, there are no back- or forward compatibility problems in the system.
Voting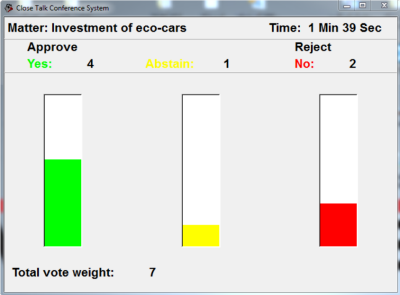 The system also has a powerful voting functionality available. Use the Delegate Unit as a voting station, simply start the voting mode during a conference, enter the voting matter or use a prepared matter from the agenda functionality, select one of several vote result displays suitable for big screen projection and click Start. Users select their vote selection and the results are updated in real-time. Voting can be finished automatically by a time-out or manually. Results can be both printed and exported for archival purposes.
Software is modularized
Close Talk Control has modularized functionality, only buy the functions you require, upgrade to more functionalities at any time.