Project examples
The audio-only system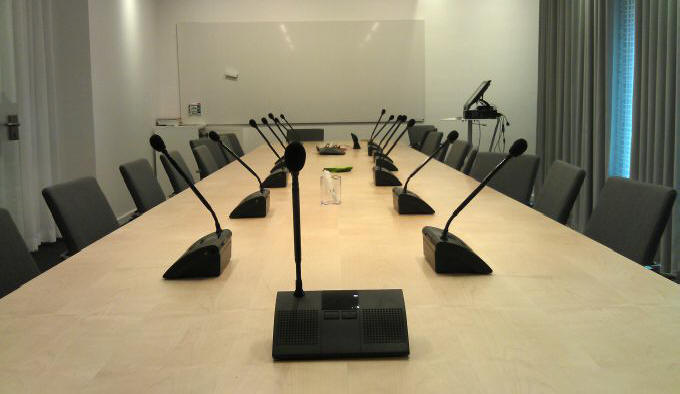 The image above shows an example of an audio-only system that is installed in the office of a Swedish real-estate company. The installation uses a single Central Unit and nine Transceivers mounted in four individual rooms. This creates freedom for the customer, they can use the system in any of the four rooms at will, the rooms are of different sizes suitable for small to large conferences. Although not used by this customer, it also creates the possibility of "anonymous" meetings, where one party is in one room and the other in another room, being able to listen and talk to each other without having to be in the same room. This setup may be very suitable for sensitive meetings such as in a lawyers office.
Teleconferencing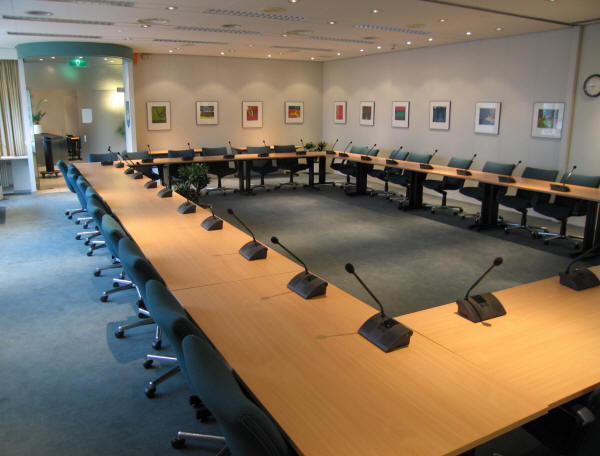 The above example is a board room example that is basically an audio-only system with the addition of a telephone hybrid. This number of participants in a teleconference had been impossible to accommodate using ordinary telephone conference equipment.
Combined video and audio conference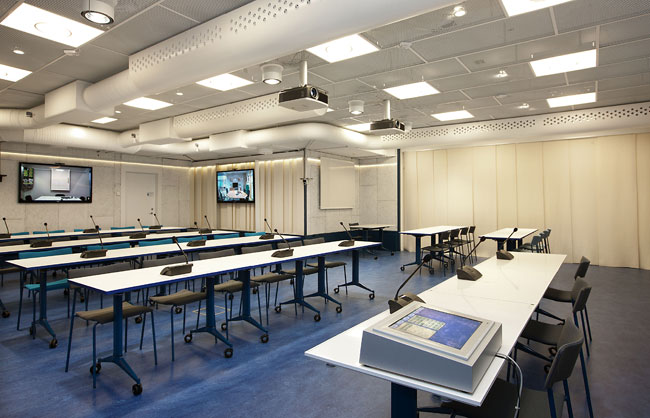 The image shows an installation for the Swedish KTH Royal Institute of Technology (www.kth.se) that uses multiple camera video and tele conferencing. The touch panel is used for full system control including video calls.
E-democracy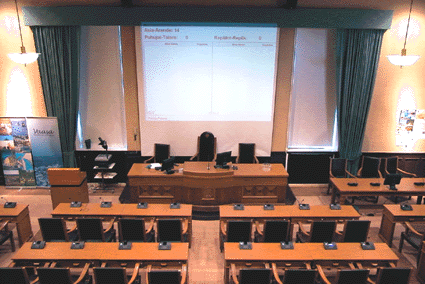 The image shows a municipality installation. It comprises one Central Unit, fifty+ Delegate Units, eight Transceivers and cord battery chargers. The PC software Close Talk Control is run on a stationary PC with dual display outputs where the primary display output is used for the operator and chairman bench and the secondary display output is shown via video projector to the participants. The functionality of the attendance and voting parts in the PC software is fully used.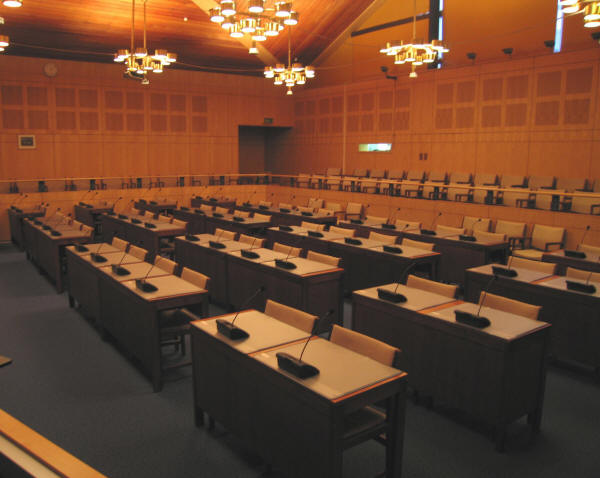 The image shows another interesting municipality installation. As well as using the PC software for conference and voting, the attendance part has been integrated to the buildings electronic passage system, when delegates arrive they use their normal ID card terminals, the system automatically detects arrivals and departures, enabling the Close Talk Control operator to concentrate on running the meeting.
Installation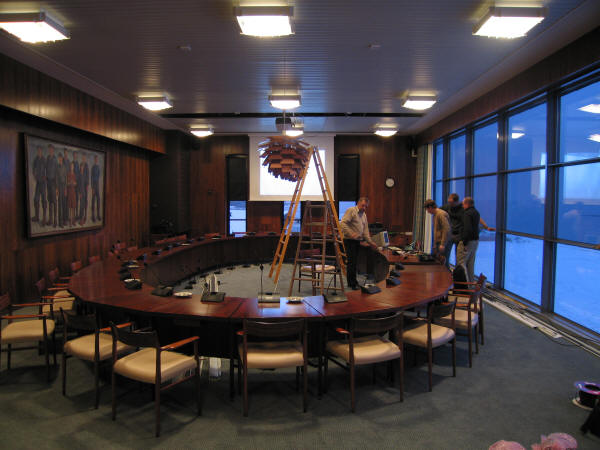 The system is very easy to install, usually installed and handed over including basic training in one day. With full e-democracy systems it is normal to assign at least an extra full day of training, especially for the PC software operator.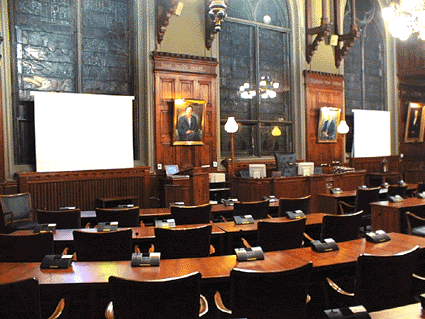 Installation in sensitive environments such as protected buildings is usually not a problem with the very discrete Transceivers and cables.
In conclusion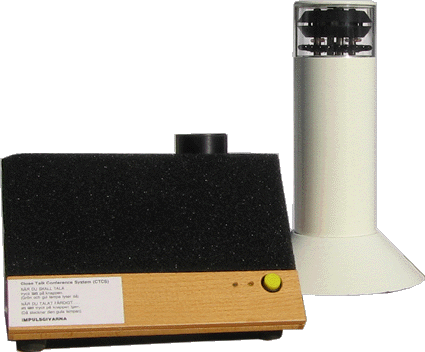 Close Talk Conference System has been around since the late eighties with a long experience in wireless conferencing equipment.

The image to the right shows the first generation released circa 1989-90 which was a hand-built, wooden box premium system. Battery operated with built-in microphone and speaker and single button PTT operation. Instead of ceiling mounted transceivers the system used "light houses" that where placed in between the microphone units.

The system was only sold in Sweden to several renowned customers ranging from government and municipalities to corporations.

As far as we know it was the first infrared based, wireless, full duplex discussion system in the world.
Today's generation is a modern discussion- and voting system with a large, world-wide customer base ranging from small private board rooms to full e-democracy government installations with numerous municipality customers.

With Close Talk Conference System, you will get...
... solid, long-lasting quality

... excellent value for money

... infrared based technology ensuring continuous, problem free operation for years to come whereas radio systems are experiencing increasing problems with ether congestion

... complete safety from eavesdropping

... a fully expandable system ranging from audio-only to highly formalized conferences including speaker list management, voting and attendance management and more

... a system ideal for larger tele- and video conferencing setups
We hope this introduction has helped in convincing the suitability of our products for your next project. Please move on and browse the Products section for more detailed information about the products and the Download section for manuals, catalogs, demo software's and more. Finally, please Contact us for a quotation on your next project!