Teleconferencing
By adding a telephone hybrid to the system, Close Talk Conference System becomes a "real" teleconference system suitable for a virtually unlimited number of participants. Compare this with the traditional table-top conference telephone where everyone finally ends up leaning over the unit to hear anything and it immediately becomes clear why the Close Talk Conference System solution really is the "real" one.



The Close Talk Conference System product range does not contain any telephone hybrid, instead most of the world markets third party professional hybrids are supported via the central unit audio ports.


Please contact us and we'll assist in selecting a suitable unit ranging from Plain Old Telephone System (POTS), via ISDN up to Voice Over IP (VoIP) solutions.
NEW - Built-in teleconference function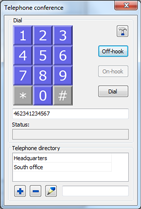 The Central Unit can now be ordered with a built-in DTMF-generator (DTMF function available as retrofit kit for existing customers). Use the Central Unit remote control protocol to control dialing or use the upcoming CT Control 3 which includes built-in teleconference support including dialing keypad and number directory database.

With a DTMF-capable Central Unit and an external telephone hybrid, a teleconference call can now be made directly from a control panel.