Central Unit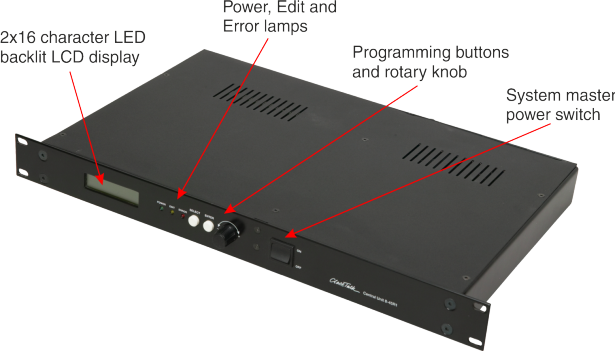 New! As of December 2014 an updated version of Close Talk Conference System is shipping. This new version's main feature is an updated audio system. Owners of existing systems may consider refurbishing to gain many of these updates, contact us for more information.
The Central Unit is the heart of the conference system and is available in a slim, rack mounted 19" case. It has the following features:
Six infrared communication channels

System supports an unlimited number of Delegate Units, number of units is only limited by the IR signal range
Three audio channel receivers. Can be configured to allow one, two or maximum three speakers to talk simultaneously
One data channel receiver. Receives data messages from the delegate units
One audio transmitter. Acts as an audio broadcast channel for all delegate units
One data channel transmitter. Sends delegate unit control messages such as speaker volume levels

Powerful speaker queue

Queue can handle up to 256 speakers
Automatic queue handling. As soon as an audio channel is available, the next speaker will be allowed to talk on a first-in first-out basis
Intelligent. Exiting the queue by mistake and then re-entering will cause the speaker to re-assume his old queue position

Audio control functions

Audio receiver mixer. Mixes the three audio channels, including mute function.
'Line In&Out' and 'Tele In&Out' level control
Delegate microphone signal equalizer (low and high frequency band)
Feedback prevention function. Depending on room characteristics, a preset amount of signal level reduction can be selected to avoid feedback problems when multiple delegate units are active

Multiple audio inputs and outputs

'Line In' and 'Line Out' can be used to connect an external sound source such as a tape recorder
'Tele In' and 'Tele Out' can be used together with a Telephone Hybrid for telephone conferences
Tele and Line connectors use balanced XLR and unbalanced 1/4" connectors
Insert function into the delegate microphone signal using a Stereo 1/4" connector

Control the delegate unit sound levels

The volume knob range on the delegate unit can be controlled by the central unit to prevent problems with feedback
Both speaker and headphone levels are controllable individually

Chairman function

Independent of speaker channel usage, a chairman always has access to a channel using one of three methods

'Steal Channel' - The chairman steals the channel from the speaker that has spoken the longest time. When the chairman releases the channel, it becomes available to the next speaker in the queue
'Borrow Channel' - The chairman borrows the channel from the speaker that has spoken the longest time. When the chairman releases the channel, the channel is automatically returned to the original speaker
'Own Channel' - The chairman has his own channel, leaving a maximum of two channels available to other speakers

The right key of the Chairman Unit can be used as override key

Priority Unit handling

One delegate unit can be treated as a priority unit. This is especially useful with a platform where a speaker channel is always open
The priority unit uses the 'Steal Channel' method as described under 'Chairman function'

Directly supports up to 8 transceiver units

Up to 8 transceiver units may be connected directly to the central unit. By using a Split Box, even more transceiver units can be used to handle the most difficult rooms

Low power consumption

An example system of 30 delegate units requires power equal to approximately 1.5 60W light bulbs

Universal (World) Power Supply
Lockable menu to prevent unauthorized use
Unit firmware can be updated via the serial port
Front panel
The front panel contains:
A 16 characters x 2 lines backlit LCD display.
Three status indicators, POWER on, EDIT mode and system ERROR
Two buttons and a rotary knob used for changing unit settings
System power switch
Rear panel

The rear panel contains:
A serial port. Used for remote control and firmware updating
A power connector. Provides power to the system
System fuse
Line In, Line Out, Tele In and Tele Out. Audio connectors for external sound sources
Line and Tele connectors both in balanced XLR and unbalanced 1/4"
Delegate microphone signal Insert using stereo 1/4" connector, e.g. a feedback destroyer
RJ-45 transceiver connectors
AUX connector for special control purposes, e.g. a telephone hybrid
System uses quick-connect, industry standard, S-STP grade, CAT 6 Ethernet cables. For more detailed information about cables please see the see the FAQ section.
Order Code: CU-110-11. Download full product catalogue for more detailed information.