Close Talk Control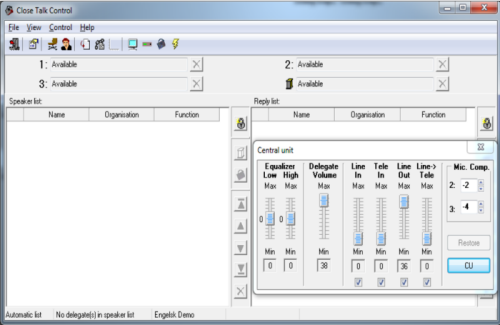 Close Talk Control is a Windows Vista, 7, 8 and 10 compatible software application that expands the Close Talk Conference System functionality with voting, delegate attendance and fee management, agenda functionality, roll-call, database management, and more.
Conference features
Includes and improves all conference system functions available in the Central Unit
Automatic or manual speaker list function

Automatic mode empties the list on a first-in first-out basis
Manual mode gives the operator full freedom to allow anyone to speak

Control speaker list size
Control number of simultaneous speakers
Reply list function
Manage speaker and reply list

Delete speakers
Re-arrange speakers
Lock/un-lock list

Platform support
Limit speaker time automatically
Voting features
Use Delegate Unit's as voting terminals
Vote weight can be specified individually for each voter
Open or closed voting
Voting timer can close voting automatically after a preset time
Voting progress and results can be shown in several formats
Print and export vote results for archiving and post-processing
Other features
Delegate attendance and fee. Powerful time and fee reporting
Roll call function
Agenda function
Delegate database with powerful sorting, filtering and search functionality
Works with Microsoft™ Windows 2000, XP, Vista and 7
Several language versions, currently supports Swedish, English, Finnish and Russian
Freely distributed software

Download software and upgrades from the download page
In demo mode, it has limited conference system functionality and allows a maximum of 6 delegates
Simple software key unlocks full functionality
Total control of the conference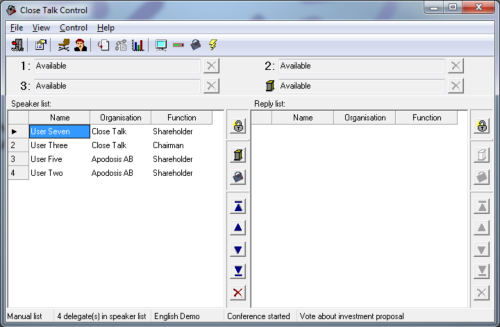 The main program window provides direct access to the conference functions. Re-order and remove speakers in the list at will. Lock the list to prevent speak request races. Interrupt active speakers. Remote activate microphones.

Includes support for a platform, enabling the speaker list functionality in CTControl to be used with existing conference equipment or a specific Close Talk Delegate Unit used as dedicated platform microphone.
Know your speakers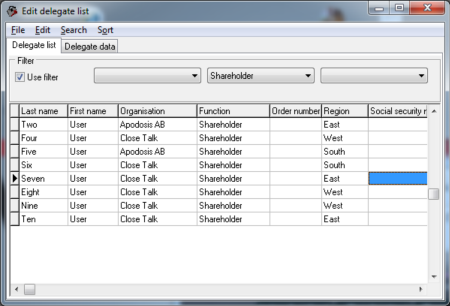 CT Control includes a powerful delegate database where conference participants are specified.

Preparing a delegate list for your conference is a good way of making it more 'personal', speak and reply requests will be shown on the list's using actual names. Delegates will also be referred to by their own name in vote displays and in vote result reports.

The delegate list editor includes powerful database management functionality such as sorting, filtering, searching and pre-defined data to make managing the list a breeze.
Cast your vote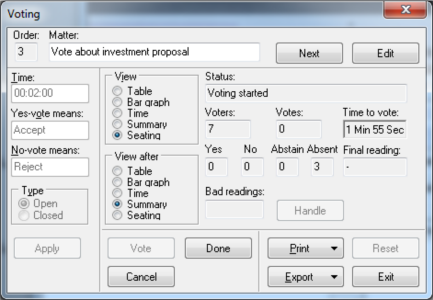 CT Control contains a powerful voting function. Set voting time, define voting matter, yes and no-vote meaning included in vote result reports.

Make vote open or closed.

Print and export vote results for post-processing.
Powerful presentation functionality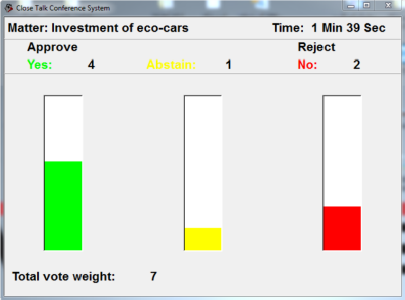 CT Control's voting functionality includes showing vote results in several ways, tabular, as graphs, as summary, as geo-placement, etc.

The Main Display is a separate program window showing conference and voting status. It can be used for projection, video taping, internal TV-network broadcasting and web-casting.
Roll call

The roll call function can be used in a formal fashion, calling each delegate in turn while updating the attendance, or with the 'Free arrival' function where arriving delegates report their presence with a simple push of a button as they arrive.

It is also used for system installation.
Feature-rich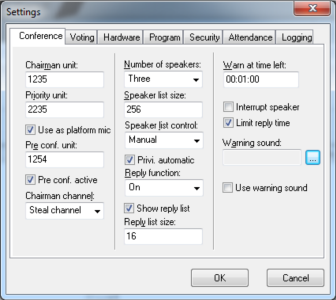 CT Control is very flexible. In addition to the new functionality provided by CT Control, all settings available in the central unit is directly available.

Arrange CT Control to your liking. The desktop arrangement of windows and panels are saved, ready for the next session.

Sensitive parts of the conference system such as sound levels can be password protected, preventing tampering with a carefully tuned installation.
Full audio control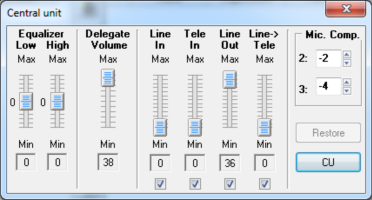 CT Control provides instant access to system sound levels.

Is that Telephone Hybrid signal too high? Just show the central unit settings dialog and adjust the 'Tele In' fader to your liking.

Is the sound a little 'thin'? Add some level to the low frequency band with the built-in equalizer.
Keep the time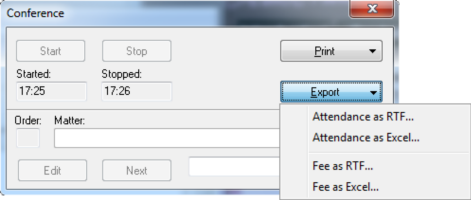 CT Control contains delegate attendance and fee report functionality.

Delegate arrival and departure times are logged. Attendance time and fee reports can be produced at conference end.

Includes intelligent fee categories such as specific time periods and 'whole meeting' fee's.
Maintain meeting order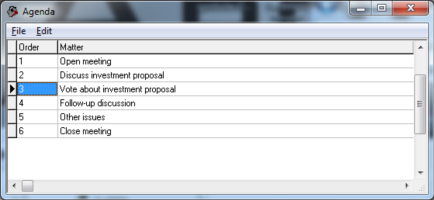 Use the Agenda function to maintain conference order.

Agenda's can be pre-made or edited during the conference, including preparing voting matters
Broadcast your decisions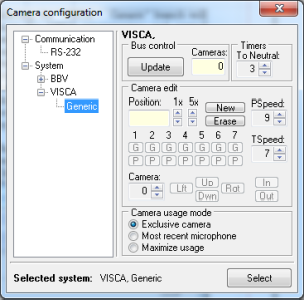 Use the powerful camera control functionality to broadcast and record your meetings.
Database manager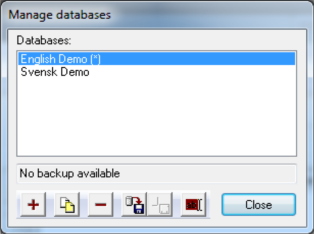 Use the database manager to copy, rename, backup and export your databases.
Powerful attendance tools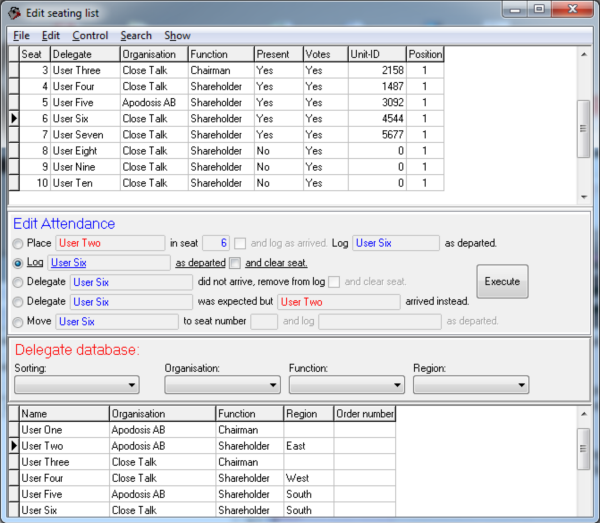 CT Control has easy-to-use tools for maintaining the conference attendance. Handle most everyday situations such as arrivals, departures, no-shows, replacements, etc. with a few mouse clicks and produce detailed after-conference attendance and fee reports.